5 ways to stay organized for a Kids Consignment Sale
It seems that our children are growing out of clothes, toys, books, DVD's at an alarming rate. It can be a very daunting task trying to figure out what to hang on to and what to sell at a kid's Consignment Sale. In the past few sales, it has been a temptation to wait until the week before to tag and price all my items. Unfortunately, when I wait until the last week I realize there are lots of things I could have consigned that never make it to the sale, and I'm left trying to figure out if they'll be appropriate for the next sale.A little planning ahead can not only earn you extra cash, but can save your peace of mind as well. Here are my Top 5 ways to make sure I stay organized and on top of the clutter that will become cash at the next sale: 1. Have a day on your monthly calendar, mine is the 5th, that you declutter your closets and kids toys, DVD's and books. If they're not wearing it, playing with it, watching it or reading it, it goes in the bin! 2. Have a "Sale" bin to store things as you come across them. 3. As your kids outgrow things, wash them and hang them on a hanger in a separate closet or area that is for your Sale items. 4. Get your items to sell in one place – hangers, zip ties, safety pins, pricing gun, plastic tubs for non clothing items, etc .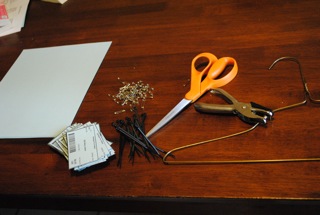 5. Once the bin or closet starts to get full – take some time to enter the items into your tagging system – software provided on your Sale's website. I usually do not have time to enter the items, print the tags and attach the tags all at one time so I usually do one step at a time.
Step 1 - Enter items into system.
Step 2 – Print tags, cut and hole punch them (I usually do this while watching a movie or relaxing with my hubby) If you use a 'tagging gun,' shown here … then you won't need to hole punch your price tags.
Step 3 – Attach tags.
Step 4 – Put items in bins and store somewhere until the sale – Completely ready to go!
If you've not had time to do this, and still want to consign, many kid's consignment sales have 'valet' tagging, which usually means the Sale will do all the tagging for you for a reduced percentage of your sold items. Now go out there and tackle that pile of clothes and toys and make some extra cash!